Protect Your Eyes with Quality Sunwear
Harmful UV rays from the sun can damage your central vision and even cause severe conditions such as corneal sunburn, macular degeneration, cataracts and even skin cancer around the eyelids. Investing in a set of quality sunglasses can provide at least 98% protection from UVA and UVB rays and their effects.
Products We Offer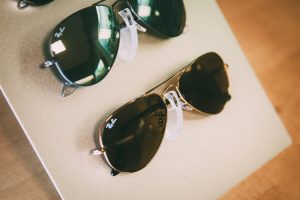 When it comes to the health of your vision, quality products are vital. Cheap, novelty sunglasses provide poor UV protection. At Origins Eye Clinic, our sunwear lines provide the best possible protection from the sun. We carry a large selection of styles and colors to fit your fashion preference.
We also offer a line of polarized sunglasses. Polarized lenses block light reflected from glaring surfaces such as a flat road, smooth water or bright sky. If you partake in activities such as water sports, skiing, golfing, biking, fishing or even driving, polarized lenses can be useful in providing a clearer view. This leads to an increase in efficiency and performance when it comes to your outdoor sport.
Origins Eye Clinic provides eye care services to the youngest members of your family. Children 18 and under are the most susceptible to the damaging effects of UV light. Protect your child's developing eyes with our wide variety of options. Although some parents worry that their child will scratch, break or lose their sunglasses, our specialists ensure that they get the most durable choice available.
Contact Us Today
Origins Eye Clinic looks forward to helping you find the best sunwear for your needs. We offer affordable, fashionable options that protect your sensitive eyes and prevent serious eye conditions later on. Call (612) 869-1333 or submit our online form to schedule you appointment today. Our eye care experts look forward to serving you!