Common Eye Problems
Dr. Zastrow and her team of well-educated eye care specialists are a close-working team dedicated to diagnosing and treating the vision health needs of all of our patients. Learn more about common eye conditions and contact Origins Eye Clinic for an eye exam if you have any concerns.
Amblyopia (Lazy Eye)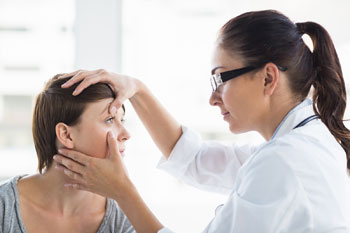 Amblyopia, commonly called lazy eye, is when one eye becomes weaker than the other. This occurs when one eye develops differently than the other eye, or a difference in focusing ability causes one eye to be used more often. Other times, the eyes are misaligned, causing one eye to "shut off" to avoid double vision.
Although it can be difficult to spot, you might notice your child favoring one eye over the other. Perhaps too, you notice your child frequently bumping into things on a particular side. We recommend an eye exam from the age of six months to three years to avoid more serious problems down the road.
Treatment involves encouraging the weak eye to develop through the use of eye patches, vision therapy, glasses and even a combination of the three.
Astigmatism
Astigmatism occurs when the cornea is irregularly shaped, which causes the eye to focus an object on two different areas of the retina. This causes a distorted view when looking at objects close-up and far away.
Astigmatism is not an eye disease, but an eye condition that is fairly common. Mild astigmatism may not need to be corrected. Eyeglasses, contact lenses or refractive surgery can correct moderate to high forms of astigmatism.
Computer Vision Syndrome
Computer Vision Syndrome (CVS) affects 75% of computer users. It is a series of symptoms related to extended periods of computer or screen usage.
CVS can appear as a variety of symptoms such as: headaches, eye strain, neck and back aches, sensitivity to light, blurred vision, double vision and irritated eyes.
Your vision, your computer and where you use your computer are all factors which can lead to CVS. Just like other eye conditions, the right prescription and even refractive surgery can help improve these symptoms.
Hyperopia (Farsightedness)
Hyperopia is more commonly known as farsightedness. This occurs when people have difficulty focusing on objects which are very close. If left untreated, hyperopia can lead to chronic glaucoma, a more serious condition, later in life.
It can be corrected with eyeglasses or contact lenses. There are also new surgical procedures that can correct hyperopia.
Myopia (Nearsightedness)
Myopia (medical term for nearsightedness) is a condition where people are unable to clearly view objects further away. In rare cases, myopia can lead to more serious conditions such as retinal detachment.
A risk factor for developing myopia is 'near work' – which entails work involving fine detail or focusing on close objects.
Sometimes myopia continues to gradually worsen throughout life (known as myopic creep). However, it can be accommodated and sometimes corrected with eyeglasses or contact lenses. Myopia can also be corrected by LASIK surgery.
Presbyopia
Presbyopia is the inability to focus on objects near the eye. As we get older (typically mid-late forties), our auto focusing mechanism shuts down. One usually notices that it is harder to read or use the computer. Other telltale symptoms include having to hold things at arm's length to see them clearly, eye strain, fatigue and headaches from near work.
Bifocals or reading glasses are a solution to remedy this condition.
Schedule an Eye Exam Today!
If you or your child have symptoms of these common eye conditions, schedule an appointment with Origins Eye Clinic today. Our eye care team will work one-on-one with you to find the best solution for your vision health needs. Call (612) 869-1333 or submit our online form.